Safety Lock of suspended work platforms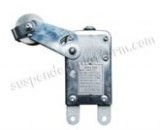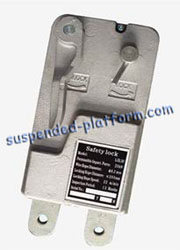 Features of safety lock LSL20
When the work platform drops due to the breaking of working cable or other breakdowns, the safety lock will automatically locks the safety cable within the distance of 200mm, when the suspension powered platform stoops its motion, the safety lock can be manually operated to lock the safety cable.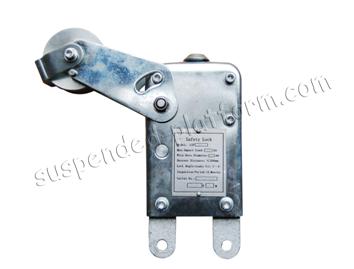 Features of LSF308 LSF309 Safety Lock
The safety lock LSF308 and LSF309 can automatically lock the safety cable at the set cable locking angle if the suspended platform tilts or the working cable breaks.  It is the key part to get good suspended platform safety.

| Type | LSL20 | LSF308 | LSF309 | LSF310 |
| --- | --- | --- | --- | --- |
| Configuration | Centrifugal | Anti-tilting | Anti-tilting | Anti-tilting |
| Diameter of cable | 8.3mm | 8.3mm | 9.1mm | 10.2mm |
| Permissible force of impact | 20kN | 30kN | 30kN | 30kN |
| Locking distance in the event breaking of cab | <100mm | <100mm | <100mm | <100mm |
| Cable locking angle | 3-8degree | 3-8degree | 3-8degree | 3-8degree |
Related Items