GOST certificate of suspended platform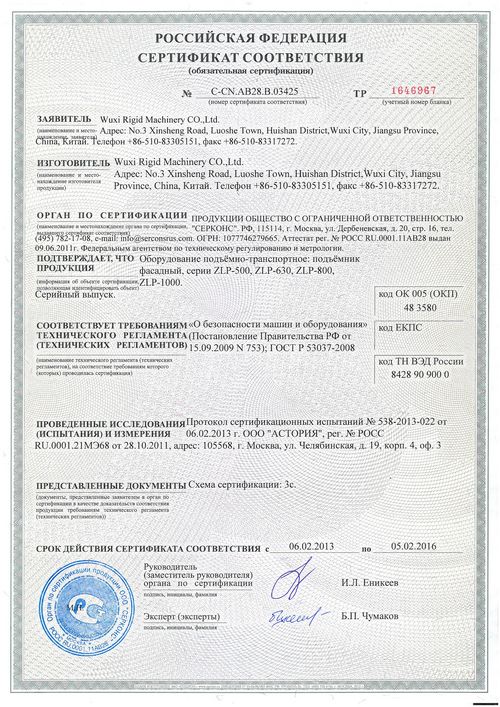 1.    This is a certificate of suspended platform for ZLP1000,ZLP800,ZLP630 and ZLP500.
"Certificate of conformity GOST R (also known as quality certificate, State Standard Certificate, clearance certificate, GOST R certificate and etc.) – is a document, issued in accordance with the rules of certification system in order to confirm correspondence of quality and safety of certified products (services) to the stated requirements, applicable standards (GOST, GOST R, GOST R IEEC, GOST R ISO and etc.). Certification of products (services) may be obligatory and voluntary.
A certificate of compliance is intended for certification of goods produced either by Russian companies or shipped to Russia by an importer-company. A certificate of compliance can be issued for a batch of goods and for a series production. In the former case a certificate is legalized for a company engaged in supplying goods to the Russian market. Its validity varies with terms of a sale contract. In the latter case a foreign manufacturer of supplied goods is both an applicant and a recipient of a certificate.
This type of a certificate is valid for a period identified in a certification document. Certification is carried out by our specialists on production premises of a company seeking certification of goods it manufactures. On the basis of results obtained during testing samples of goods in a laboratory an appropriate certificate of series production compliance is issued..
Certificate of compliance with GOST R for products may be issued provided requisite additional certification documents are available: a hygienic report , a veterinary certificate, fire safety certificate , etc. A certificate of compliance with GOST R should contain references to the above documents. "(From http://serconsrus.com/services/gost_r/)

This certificated is authorized by "Sertification Authorith" whose website is  as below: www.serconsrus.com (If your want more information about this certificate document ,you can visit this website.)
| | |
| --- | --- |
| Rostov-na-Donu: | +7 (863) 248-09-67 |
| Novosibirsk: | +7 (383) 378-88-05 |
| Voronezh: | +7 (4732) 502-777 |
| Ekaterinburg: | +7 (343) 384-57-81 |
| St. Petersburg: | +7 (812) 309-16-89 |
| Kazan: | +7 (843) 206-01-38 |
email: online@serconsrus.com or info@serconsrus.com
If there is any problem,please freely contact us .
Related Items